History
The history of Willa Kotwica, as one of about thirty old classic buildings of those days located in Jastrzebia Gora (Hawk Mountain), hardly distinguishable among many buildings now, reaches the interwar period.
To highlight the interesting historical background we need to move a hundred years back, when the Treaty of Versailles was signed in 1918 and after less than 150 years Poland regained the lost access to the Baltic Sea and started to reestablish the real administrative control over the Pomeranian Region out from the Germans, excluding Free City of Gdansk. In the 10th of February 1920 in Puck city the significant historical moment took place – so called the Marriage Poland to the Baltic Sea. Polish government made extensive affords to both recover economically that area and to give it real Polish quality. The main goals for Pomeranian Region First Maritime Governor general Mariusz Zaruski were to built up a harbor, the fishery, to develop the city of Gdynia and establish well organized seaside resorts with watering places. The first so called Companionship of Sea Watering Places implementing the scheme of buyout, partition and selling pieces of land for guesthouses and hotels, was established in Gdynia in 1920. There were other watering places: Wielka Wies and Hallerowo (known as Wladyslawowo city now), Jastrzebia Gora, then later; Hel, Jastarnia and Jurata. The administrative processes were accompanied by increasing knowledge and curiosity about regained Pomeranian Region observed among inland Poles. Captivating wild beaches, meadows, pastures, forests, beautiful views and brisk air were yet to discover. The sea side land near Jastrzebia Gora was sparsely populated by local Kashubians due to infertile soil bad for farming and high cliffs bad for fishing.
One of enchanted when visited once that sea side together with a friend Mr. Iwaszkiewicz, was engineer Jerzy Osmolowski coat of arms Boncza from Polesie, already entitled as Chief Civil Governor of Eastern Lands by marshal JA?zef Pilsudski himself. Jerzy Osmolowski and his friends Adolf Makomaski and Henryk Kuncewicz bought from German landlord named Hanneman (or Hauneman) owner of Mieroszyno estate, a land of ca. 38 hectares located between sea, Droga Rybacka street and Baltycka street and established a company named Kapiele na Wielkim Morzu (Watering Places at Great Sea) Jastrzebie Gory Jastgor stock company registered in Warsaw, 37 Jerozolimskie str. planning to divide that land into parcels and sell one by one. In August 1922 Jeon Plisowski from then Polish city Vilnius (now within Lithuania), a good friend of those gentlemen, later the first owner of Willa Kotwica, was informed by mail about Jastgor newly established sea side enterprise and was invited to purchase the shares.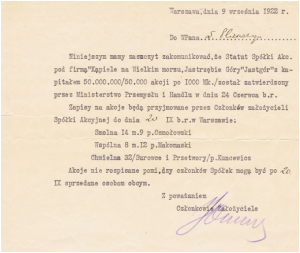 Jastrzebia Gora (officially and in vain pushed to be named as Kapiele Rozewskie /Rozewie Watering/, originally named by locals as Pilice those days) thanks to its charm, owners wide connections, invitations to buy shares and widespread parcels sale offers successfully encouraged many newcomers to become owners of summertime houses or guesthouses, such as noble Poles from Warsaw, Vilnius, from the close circle of marshal Pilsudski, high rank officers, including the mastermind of the won battle with Bolsheviks, called Miracle on the Vistula Polish Army Chief General Tadeusz Rozwadowski, industrialists, landlords, artists from Warsaw and Krakow. Those days this place was facetiously called New Warsaw.
At late twenties, 20th century only more less twenty parcels were built-up out of two hundred available and more less forty of them in 1939, including few summer villas built according to architectural designs of the founders of Jastrzebia Gora entity themselves., including our Willa Kotwica designed by engineer Jerzy Osmolowski.
Soon, with a strong view to develop and to gain more prestige to this new summer seaside a wide road called Seaside Boulevard was built with a huge effort, connecting Wladyslawowo with Jastrzebia Gora. Two new additional nearby summer spots were coming into view; Jasny Brzeg (Bright Seashore) to the east from the border of Jastrzebia Gora those days, means from Droga Rybacka str. and another one even closer to Wladyslawowo – Lisi Jar (Fox Ravine). In 1938 a lift in the center of Jastrzebia Gora was raised to ease the access to the down below beach. And then the war came…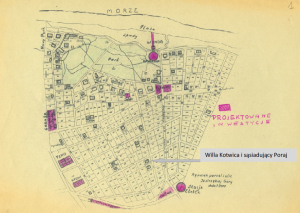 Let us come back to the history of Willa Kotwica itself.
As mentioned before, the first owner engineer Leon Plisowski (born 1878 in Kozlowice farm, Grodno district, died childless ca. 1950 in Gdansk hospital) asked in 1928 the founder of Jastrzebia Gora seaside architect Jerzy Osmolowski to design and built-up a villa. It is documented in a statement signed by civil engineer Karol Klukowski far later. Unfortunately this statement has no date on it, probably was issued later just to clear up some tax issues connected with giving a half of that villa to his sister Paulina Kliks (born 1883 is Kosowica, Grodno district, died 1970 in Jastrzebia Gora).
Leon Plisowski was one of smaller landlords from around Vilnius (then Polish city Wilno, now Lithuania), (old original maps of his land parcels in Kolonia Wilenska remained), who decided to build a guesthouse in Jastrzebia Gora. Mr. Plisowski, as stated in his handwritten curriculum vitae dated 1947, in 1904 was graduated with civil technology engineer diploma from Polytechnics of LwA?w (then Polish city LwA?w, now Lviv Ukraine) was designing open-hearth furnaces and working for Polish railways as a high voltage machinery manager. As he mentions in his CV, he moved to Olsztyn after war in 1946. In fact, he and his sister were forced to leave pre war far east territories of Poland and, as remained documents prove, they lost all properties there, including those in Kolonia Wilenska at Kreta street.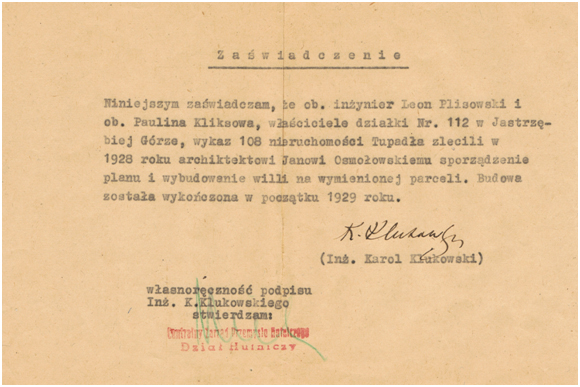 As stated on remained bills and on agreement with a carpenter Bernard Marzejon from the city of Puck, Willa Kotwica was expected to be completed by the 15th of June 1931. From the character of the villa design itself and proved by family stories it is obvious that Mr. Plisowski intention was to have a guesthouse. The design had nothing of any feature of a tiny summer seaside house for owners own rest and relaxation, as many of them were built in Jastrzebia Gora those years as well. The guesthouse idea, that was probably a kind of a business for less and less wealthy landlords of those days.
Willa Kotwica represents the main, so called traditional trend of designing guesthouses on the regained Pomeranian Region; merges the governmentas recommendation for national familiarity and the links to old fashioned Polish manor houses with the purest economic demands, meaning even dimensions for maximum cubature and number of rooms. As a result the form is frugal without decorations with traditional pediment gable roof and dormer windows. Frontal part designed with typical wooden porch based on thin wood and glass walls, porch roof as a terrace up on it. The roof slopping down covering the walls of the second floor with dormer windows in it, makes the house not only old classic but makes the property tax lower, as well. That way the entire second floor is formally qualified as a loft, for it is covered with the roof. Originally in documentation Willa Kotwica is a single floor house with a basement, attic and the loft, despite much cubature and previously fourteen rooms in it.
As mentioned on remained bills and family stories Leon Plisowski was building that villa remotely from the city of Wilno where he lived; he was giving the specific works to do, paid parts in advance, then checked and paid balances when arrived on site. As a result, completed and furnished villa was ready to host first guests no sooner than in the summer of 1937. From that very time a Fine Statement of 12 zloty sent by mail to Mr. Plisowski to Wilno remained, noticing that:  ..  business activity based on letting 8 furnished rooms is being held without an industrial adequate certificate in Jastrzebia Gora. Unfortunately in March 1939 the owner of Willa Kotwica exchanged correspondence with Jastgor company representatives asking to help to sell his property. However he did not succeed selling his villa before the war came.
The remained after-war handwritten two letters to Leon Plisowski (already moved to Olsztyn); one sent out from Warsaw in January 1948 by his friend and founder of JastgA?r company Henryk Kuncewicz and the second sent out in August from Jastrzebia Gora by Maria Kuncewicz, both being owners of neighboring small summer villa Poraj, tell us that these two friends and neighbors from Jastrzebia Gora at the same time were truly concerned about Leonas weakened health aged 70 and about the poor condition and future fate of Willa Kotwica. Maria Kuncewicz begins her letter with: I am writing regarding our neighboring villas, in my opinion, you should come here and see your Kotwica, for she badly needs quick repairs. Henryk Kuncewicz begins his letter with Dear Leon? and the most of the letter dedicates to neighboring villas. He writes: As for Jastrzebia Gora and Your villa: Jastrzebia Gora after war is very much deteriorated, almost every villa is without furniture, many without windows and doors, some badly leaks, in 1945 Jastrzebia Gora terrifies with emptiness … regarding Your villa, I know she need repairs and protection both of them Henryk and Maria Kuncewicz make plans and offer Leon those who can make repairs, how much it could cost, who can manage the summer rooms lettings. They pointed out the real thread of forfeiture of the property, knowing that the Treasury of Republic of People take over the best located villas and those abandoned.
It turned out that after a period of Hitler's occupation of that area, and when the new after war reality came it was Leon's Plisowski sister Mrs. Paulina Plisowska (then living in village Pilona near Elblag) who fought in courts against the organs of Polish Republic of People to keep that villa and be able to spend her senility in it. At a request of infamous Ministry of Public Security and according to binding decrees, proving that: … the named above building is free and needed… in November 1953 Presidium of District People's Council decided that Willa Kotwica is allocated to Ministry of Public Security as a ministry vacation house. Mrs. Paulina aged 75 still determined to live in Willa Kotwica, already having lost her properties in Wilno, again was forced to abandon her farm orchard of area ca. 4 hectares in Pilona near Elblag without any compensation from the state just to win in 1954 a certain change of the previous decision saying now that the Ministry is obliged to allocate one single room to Mrs. Kliks in once her villa with one incredible condition at the end: The room for Mrs. Kliks may not be necessarily located in Willa Kotwica itself (!) Finally and fortunately Paulina Kliks spent the rest of her life in her villa in one dedicated for her room but among friendly family of new owners and she was buried in 1970 in cemetery in nearby village Strzelno. That means that Willa Kotwica changed her owner, fortunately not for infamous ministry. The planned vacation house for ministry was not installed in the villa and in the contrary Mrs. Kliks succeeded to put it for sale, probably because she could not afford any necessary improvements. This was the time when that villa weaved the fate of the two families; Plisowski and Kliks with my family Felkner (originally Voelkner) and later Mucha.
After the madness of the Second World War, the local Kashuba from nearby Tupadly village, my grandfather Augustyn Felkner (1922-1989) married Anna Marianna Tomaszewicz (1926-2010) from Lithuania and they settled in abandoned villa named Mussa (in Lithuanian means Our) owned by Mr. Klukowski. Augustyn, knowing that he lives illegally in that villa, was intensively looking for a new home for his family somewhere around. Luckily he came across Mrs. Kliks' offer and in August 1954 he became the owner of Willa Kotwica by property donation assignment made by Mrs. Kliks with a certain cash supplement, both exchanged for the right to live there and be nourished till the end of her days. He soon made necessary repairs and improvements and they moved it with their two daughters Krystyna and Anna and son Roman.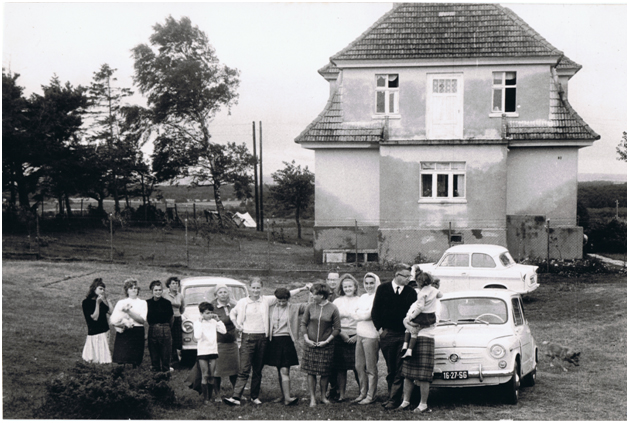 Augustyn Felkner all his live devoted to the sea. He was a fisherman working on distant seas and oceans all over the globe while the socialism was developing in his home country. He performed very hard and responsible work as a deck boatswain on trawler ships for Polish fishing companies Szkuner and Gryf, sailing also on Dar Pomorza. He crossed the equator for the first time on Laskara ship and on that occasion was named Singing Shark. His wife Anna Felkner, despite both, hardly knew Kashubian and Polish languages (she knew Lithuanian and German) and facing her husband's rare presence home, at the same time with difficulties she raised their children, she did a bit of farming and during summer time she run their guesthouse Willa Kotwica.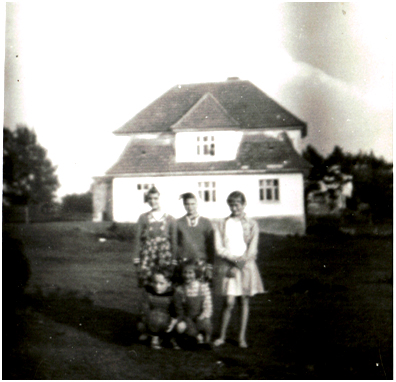 The fisherman Augustyn Felkner step by step throughout the years was investing a lot to improve the condition of the villa; jointed electricity, running water (also for neighbors benefit) and built a small farm house.
Willa Kotwica was hosting summer guests mainly from the south Poland (Silesia) and from Warsaw and its surroundings. Under Polish Republic of People the owners of summer guesthouses were obliged to sign agreements with the state owned vacations agencies for industry workers, i.e. Baltur. However there were always a few rooms out of the system, kept just for individual private holiday makers. Willa Kotwica thanks to its charm, exceptional location among the greenery and the owners hospitality could bind its summer guests even for few generations  they were always coming back in the summer, bringing here to the sea shore their kids and later on grandchildren as well.
Anna and Augustyn Felkner decided in their will to give the whole property of Willa Kotwica and other farm lands to the younger daughter Anna with husband's surname Mucha, to the daughter who started as a young kid with a kind of commitment helping her parents in housekeeping and running their guesthouse. She lived in Wladyslawowo with her husband Boleslaw and three sons Grzegorz, Zbigniew and Boleslaw. When in 1898 Augustyn Felkner suddenly died, Anna and Boleslaw Mucha took over all the responsibilities of the villa's owners. In 2001 they have completed new building, so called New Kotwica. The new house, which is build close to the old villa on the very place where the small farm house was, designed to host the owners and partly with rooms for summer guests. In 2008 the whole property was given to the middle son Zbigniew, so he and his wife Sylwia are now running the family business.
The old Willa Kotwica is being constantly an apple in our family eye. Although villa is almost 90 years old we still make investment to be able to host new guest in this place with a soul. Nowadays among the dense housing, may someone say tasteless housing of Jastrzebia Gora, you need to make a great effort to find Willa Kotwica and other villas from those past days, and you should be equipped with a certain taste to admire its architecture and history.
One of those I have just told you.
Written by Zbigniew Mucha (owner)  based on own and shared sources.